Angela Harmon
"It's a Wow Life"


Sunday, February 4th @ 11:00 a.m.

Through love, faith, and trust, we can transcend anything
highest Wow vibration. How we choose to live makes all
the difference. To live life in a greater way, no matter what, is to live
a principle centered life. Ernest Holmes enlightens many through the
philosophy of the Science of Mind, to live a miraculously Wow Life!
---

Birthday Sunday!


Sunday, February 4th after Sunday Service
Join us for cake!
See Hospitality Team Leader, Joan Snow, to volunteer.
 
---

New Member Orientation!


Sunday, February 4th @ 12:30 p.m.
Rev. Larry Church facilitates New Member Orientation in the Chapel Room.
---

CommUnity Potluck!


Wednesday, February 7th @ 5:45 p.m.

Please bring a dish to share and enjoy an evening of abundant fellowship and friendship!

 
---

Wednesdays Together!


Wednesday, February 7th @ 7:00 p.m.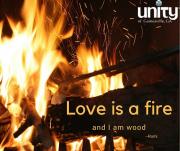 Do you dare to be used up in the fire of love? Please join
Rev. Jesse James & Lavonne Hoglund in this exploration
of Prayer, Crystal Bowls & Sharing.